Why Choose Us?
BUY ONE OF OUR CASKETS & RECEIVE FREE REFERRALS TO CUT OTHER FUNERAL COSTS
We let customers know where to buy other items such as cemetery property, mortuary services, flowers, grave markers and vaults at low prices from reliable vendors. We do the comparison shopping for you.
FACTORY DIRECT SAVINGS
Buy a casket direct from our factory and save by avoiding a funeral home markup. We are the only casket factory in Los Angeles open to the public, and our caskets are of the highest quality.
FREE LOCAL DELIVERY
Delivery is free within 30 miles of us.
VARIOUS QUALITY CASKETS MADE TO ORDER RIGHT AWAY
Asian, Buddhist, Catholic, Hispanic, Hmong, Islamic, Jewish, Molokan, Mormon, Protestant, child, cloth-covered, cremation, metal, oversize, solid woods, Dracula and Old West. Our wood caskets and coffins are made of solid wood (they are not cardboard, particleboard or veneer).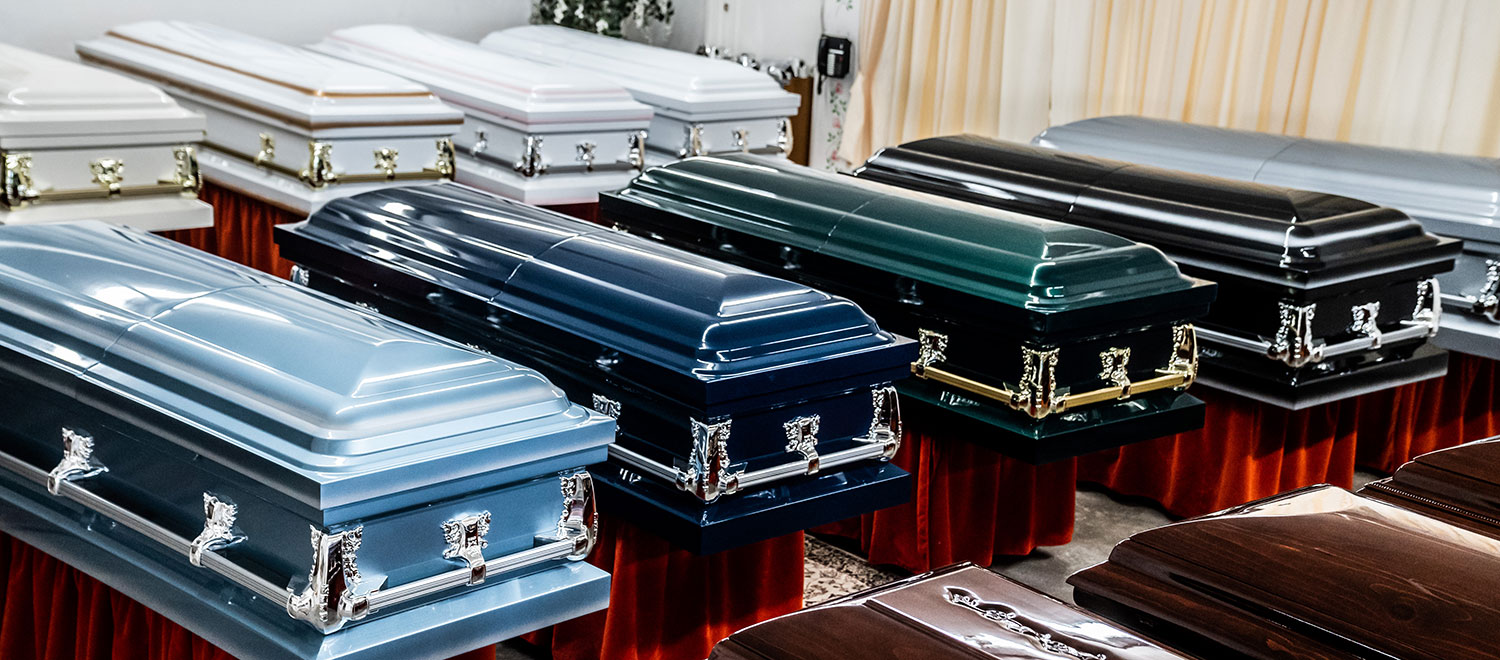 There's more to saving on a funeral than buying a low priced casket
Many funeral homes charge a large fee for not buying the casket directly from them in their package "deal." They call this extra fee a "loss of a discount." It makes people lose savings they thought they could make by purchasing an inexpensive casket from another source. We can refer our customers to funeral homes who do not do this.
Most casket retailers aren't familiar with local mortuaries, cemeteries, and other funeral resources. They only care about a quick sale of a casket. We help customers find all parts of a funeral at lower prices whenever possible. Saving on more aspects of funerals, you get greater total savings than from just buying a low priced casket without further advice.
Most people lack the time and knowledge to cut funeral costs
Most cemeteries and mortuaries sell over-priced funeral products and services. When a death occurs at home or at a rest home, you must find a mortuary immediately. At that time, people are emotionally upset, unable to think clearly, and lacking time to comparison shop for the many components of a funeral. Picking the cemetery and/or mortuary closest to your home, that you've heard advertised, or that you have used before can result in overpaying by thousands.
Beware of costly traps
PACKAGE DEALS: In a package deal, the mortuary offers a "discounted" casket along with other items and services. The mortuary stresses the "discount" on the casket but doesn't tell you about the inflated prices of everything else. The inflated price of the rest of the package is often several thousand dollars more than the "discount" offered on the casket. People get so focused on the casket "discount," they get the package "deal" and end up grossly overpaying for the funeral.